Confetti and skydivers fly at Homecoming festivities
Homecoming Week is a big week – the Crowning, the Homecoming game, the floats, the lights.
The Homecoming floats were themed around board games this year. The senior class chose "Candy Land," the junior class voted for "The Game of Life," the sophomore class decided on "Pie Face!", and the freshman class had "Clue."
The scores were as follows:
1st – Freshman: 168
2nd – Seniors: 155
3rd – Juniors: 149
4th – Sophomores: 141
After the floats, an interesting event happened – skydivers.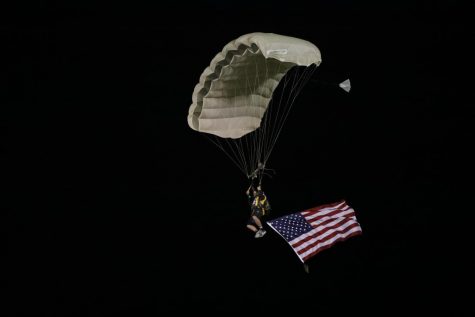 At halftime, the much-awaited Homecoming Crowning took place. The nominated queens were Sierra Kozloski, Hallie Terrazas, Reagan Hamilton, Shelby Lee, and Morgan Pulido. The nominated kings were Noah Popejoy, Coletin Hamblin, Derek Amorteguy, Corbin Yaws, and Jeb Burke.
Millie Reynoso and Jackson Van Roekel were last year's King and Queen, so they were present to present the crowns to the elected monarchy.
After the classic cars brought the queens to the stage, and the kings were escorted by their mothers, the Queen and King were announced. Morgan Pulido and Coletin Hamblin were announced as the 2019 Homecoming Queen and King.
"I felt excited when I was nominated for Homecoming King," Coletin Hamblin said. "I was a little nervous during Homecoming week because I don't do too well in front of big crowds," he added.
Morgan Pulido said, "I was really excited to be on court with all my amazing friends! Also, it's a really fun experience! I wasn't really nervous throughout the whole week. I started to get nervous when the time was getting closer and when the night actually came. Overall, it was a great experience and I was super happy that I got to be a part of it."