Ilan Katz shoots for the stars at Arcadia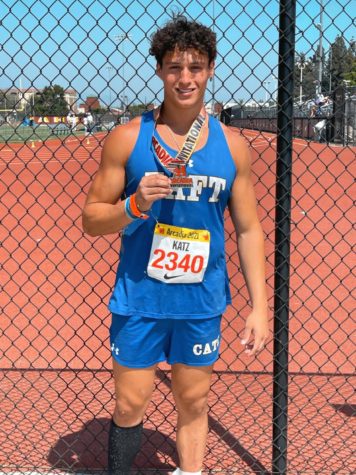 Ilan Katz was the star of the show at Arcadia. On Saturday, May 8th, Ilan Katz had the opportunity to represent Taft High at the most competitive competition in California and arguably the nation.
"The Arcadia Invitational is a prestigious high school track meet where athletes from all over the country compete," explained Katz. "In order to qualify for the meet, you have to meet a requirement in the event you do, and that still takes consideration on the other end," he continued.  
Ilan Katz, enthusiastically said, "I was incredibly excited to represent Taft High at this elite track meet because our small school hardly get[s] represented in major sporting events." Katz has been doing track all of his life, but he started throwing shot put in 3rd grade.
According to track coach and teacher Mr. Newton, "[Ilan] has been struggling to get over the 50' mark all season"  at the invitational Katz exceeded expectations when all of his attempts resulted in over 53 feet (his personal best). In response to this, Katz remarked with pride, "This was shocking, but not a total surprise." Katz accomplished 2nd place in the men's shot put open.
After high school, Katz does not plan on continuing track; he will be starting a vocational nursing program at San Joaquin Valley College.