Mock Rock Wrap-Up
Spotlight, dance moves, heard and unheard voices and so much more comes to mind when we think of this one event, Mock Rock. This year brought new talent, as it does every year, but this year was different and hopefully you were there to see why. The opening revealed students and teachers warming up the audience with a Baby Shark act. This led to the competing performances. The mood instantly changed as a piano melody lifted the crowds' flashlights in the dark auditorium. Ashley Ramirez and Kimberly Rivera shared the song , "Perfect." They harmonized while Elijah Gonzales played the grand piano on stage.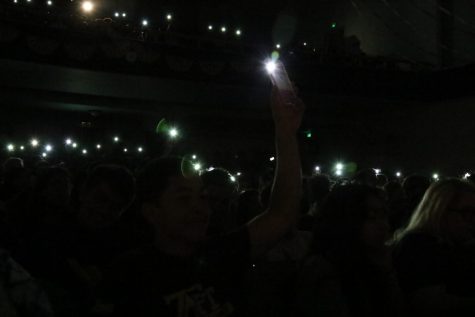 Then, after the duet, there was a solo singing act. The air seemed still and then chords played as Kailee Gaylord began singing with a dancer behind her. Mariah Nevarez, the dancer, expressed the motion of the music behind it all. Taking a break from live stage performances, a video appeared with it saying Lazy Taft- A Lazy Scranton Parody. If you have watched The Office, this video would have brought scenes of it back to you. Michael Van Zee and D'Angelo Armenta pulled it together with their own rapping and video ideas.
Stephanie Santos, a student who has been apart of Mock Rock for all of her four years came after. When asked if she was going to do Mock Rock this year, she replied, "Do you know me? Yes!" After the video, applause, and an introduction, the curtain opened to her with face paint and red light beaming down. She decided that she would go all out her last year; she made that evident with the light, moves, twist, running through the crowd, and all she could fit into her act.
Next, Elijah Gonzales and a polished black piano appeared as the curtains opened. Like a concert pianist show, the crowd was respectfully quiet as he played a theme song from the show "FairyTail." Loud to quiet, you could see his emotions through every piano key. Now, if you're familiar with the Disney Movie, "Coco," you could see the inspiration behind this act. Music, confetti, face mask, and more all immersed into the colorful Land of the Dead movie. Dressed as the main character, Miguel, Leonel Cortez sang along to a song from the soundtrack.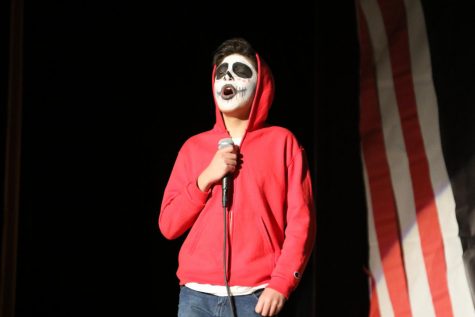 Setting themselves apart from the rest, The Kings showed up with a full band. This act introduced Tanner Ashmore on drums, Dennis Posey on Alto saxophone, Presley Golling on Bari saxophone, Ricky Posey on piano, and Raygan Wescott singing. Dressed in clothes evocative of a time in the seventies, The Kings pulled you in to make you feel the era for just one song. And that song is named, Bohemian Raphsody by Queen.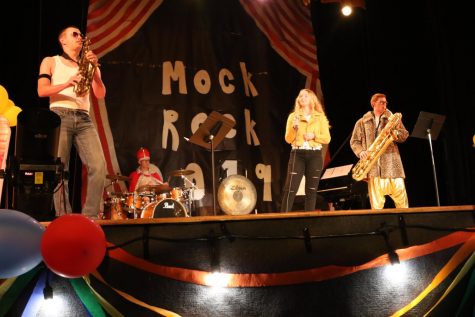 A while after, another video was shown on stage, but this time it was created by Bryson Ginn and Ryan Hickernell. Music blasting, going around in golf carts, and showing off their cash, they both made sure of what they wanted as their video for their last Mock Rock as seniors. After their performance, Mrs. Heber and her class, Human Element, prepared an act full of dancing.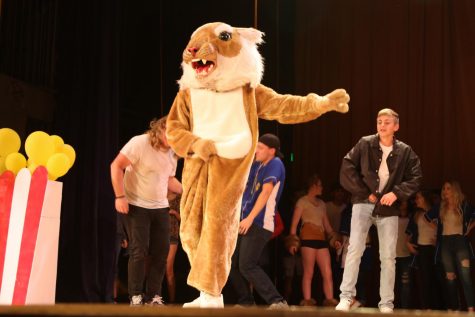 Taft High school spirit showed up not too long after when teachers and students alike picked places on stage to dance. Afterwards, the judges were in with their votes and the announcement of the winners took place. Starting with third place, D'Angelo Armenta and Michael Van Zee's video won. Second Place was congratulated to Elijah Gonzalez for his piano piece. Last, but not least, The Kings went home with the first place. And with all that said and done, this concludes the Mock Rock show of 2019!