Jingle Jam
Christmas Karaoke was a big hit at lunch on Friday. Jacob Gonzales and Sarah Lopez brought home the gold with Love is an Open Door from the smash hit "Frozen". "They brought the most energy," Mr. Greer stated. Gonzales even added a little flair by dressing as the red Power Ranger for the occasion.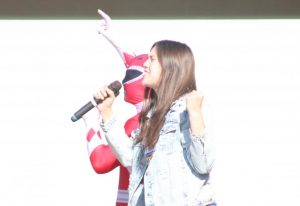 The one to rock the silver was English teacher, Mrs.White. with Where Are You Christmas by Faith Hill. "It takes a lot of courage to be up there alone and be a teacher," the judges stated. Mrs. White said, "I'm glad everyone liked my singing," in an interview. "The song is from my daughter's favorite Christmas movie this year and I chose it from there," she continued. She showed great courage and heart in her performance.
Stephanie Santos and "The Phantom" tied for third with their performance of the Phantom of the Opera theme song. "We didn't get enough of the Phantom; we needed more of him," Mr. Morris stated in a interview. Also taking third was James Buddell and friends singing Santa Baby with Maros Alfaro and Chloe Schwerdetfager jumping in when James's partner backed out at the last minute.
The crowd was very supportive and cheered for all the performers.  This was a great way to get together for a lunchtime activity before finals week.