A Wild Night at Powderpuff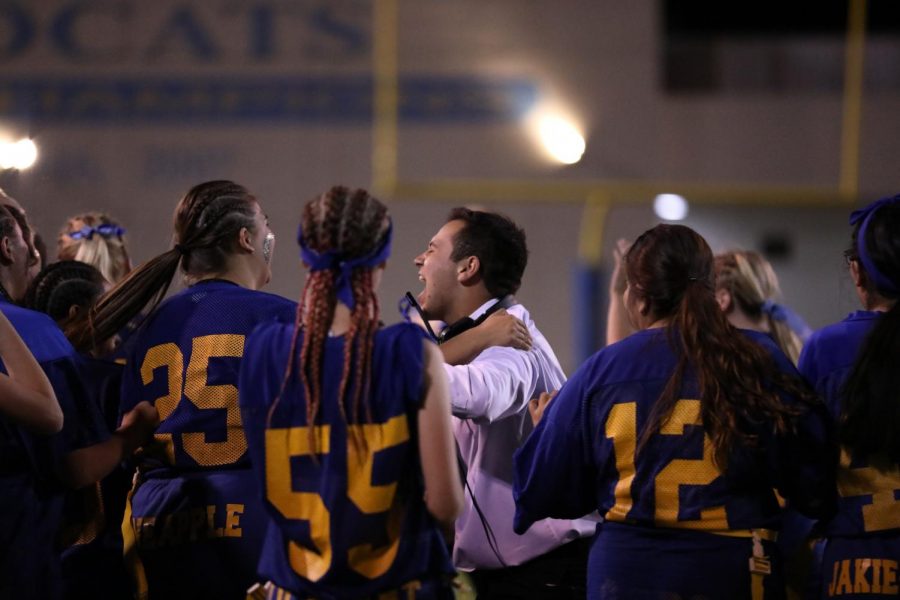 Last Wednesday, two historically bitter rivals, Blue and Gold, met for a rematch on their home field. With both teams looking to take the victory, the senior girls started their pre-game stretches with intensity. After the names of all the seniors were announced over the speakers, and their stretching was finished, the football game between the Blue Squad and the Gold Squad finally began. Gold Squad had jumped to an early lead with running back, Caitlyn Bailey, averaging about 5 yards per carry. However, their start did not last long as the Blue Squad's defense forced the turnover on the 48 yard-line. With unmatched intensity, the Blue Squad showed early signs of dominance when running back, Taylor Hale, broke into a 33 yard run on the very first down. The Gold Squad showed their determination and did not allow the Blue Squad to score. With a forced turnover on downs, the Gold Squad capitalized on their advantage when Hunter Everson completed a 18-yard pass to Yadira Leon for the first score of the game. With the score being 6-0 in favor of Gold, the Blue Squad fought back and ended the first half by scoring a 72-yard run from running back Taylor Hale.
During halftime, the cheerleaders put on an interesting show for the crowd as they performed their dance routine. After their dance routine was over, the five Homecoming King Candidates: Setefano Maui, Zack Tuaila, Zach Self, Seth Taylor, Jacob Gonzales, and Blake Johnson were announced. The crowd came to a silence as everyone waited in suspense for the winner to be announced. The crowd then erupted into applause as the winner, Zach Self's, name was heard over the loudspeaker. After the announcement, it was game time again.
Starting the third quarter, neither teams could produce an offensive effort great enough to score. As the fourth quarter began, the Gold Squad came close to scoring when Hunter Everson ran the ball to the 12 yard-line. However, the Blue Squad showed no mercy as their defense shut down the Gold Squad's offense. The last two quarters produced zero additional points for both the Blue Squad and the Gold Squad. The game finally ended with the Blue Squad coming out on top 7-6.