Students choose careers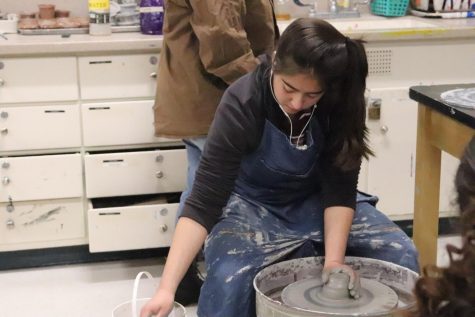 Taft High is a diverse campus with many opportunities to prepare for a career choice. Foods is a good class for basic cooking skills but students can also learn more if they wish to pursue culinary arts.  Art is a fun and creative class for students who want to explore their imagination as well as giving students time to practice their skill if they want to go into an art career. 
There are a lot of students who all have their own likes and dislikes; in addition to that, they all have different aspirations for the most part.
In an interview, students answered what their preferred career path was and why they want to go into that field.
"I definitely want to be a music teacher, not necessarily in Taft or Bakersfield, but somewhere with a lot more students," says Martin (Marty) Penaloza. Marty's a trumpet player in the Taft Union High School Band and is definitely a talented musician. "I want to go into music to inspire students who play music to feel escape and feel happy."
Many of the students have big and ambitious goals for the future and that is something that should be admired.
"Being a physical therapist is my ultimate aspiration. I think it's interesting how the human body works, and I want to make sure other athletes are able to perform their best," is what Carlos Viegas says. "I would like to work for a NFL team or in the Olympics, however, a physical therapist at a school wouldn't be awful."
Some students prefer a different kind of work. "Secretary or personal assistant. I'm good at managing and keeping track of a lot of small tasks and major necessities. Plus, I'd be happy knowing that what I'm doing is making someone's hectic life easier to manage," says Reina Mendoza. Mendoza expressed that she would find satisfaction in working as a front desk associate for a major tech company or a personal assistant.
Learning  a trade or few are good skills to posses just in general, whether you need to change your tire in the middle of the desert or if something needs an intricate knot to hold it together.
Esteban Espinoza prefers to learn a trade and finds the car business fascinating.
"I want to be a mechanic, I've always enjoyed helping my dad and uncle build a car when I was younger and love fixing stuff. I know that, if I become a mechanic, I'll definitely be happy with my career choice, I would really like to be a part of a pit crew for NASCAR and see how quick I could replace tires or change out the brake pads. Plus, the world is always going to need mechanics," says Espinoza.
All these career choices are amazing and so diverse; what really matters in choosing a career is to make sure you're happy going to work. Money is still important, however, it's vital to pick a job that doesn't make you feel like you're waking up and taking an AP Calculus final everyday, so do what makes you happy and gives a good paycheck.