Foods club satisfies students' culinary appetites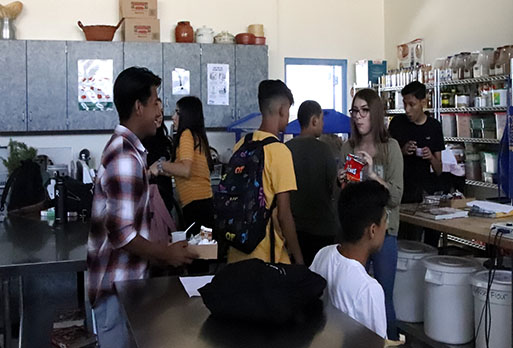 The Foods Club had its first meeting of the year. It was held during lunch on Friday, September 20th. The meeting was led by, club advisor, Carlos Chavira, who teaches the culinary class here at Taft High. Pizza was served for those who attended.
During the meeting, an election was held for the club President, Vice President, Secretary, and Treasurer.
"I think it's great," said Heather Johnson when asked about her thoughts on the club. "It is great for people who couldn't get into the foods class. It can teach people about different cultures through their food."
In the future, there are plans for catering events and fundraisers, like Hump Day Plump Day.
The Foods Club has also had its second meeting. During this meeting on September 26th, the club discussed t-shirt designs and working the snack bar during the football game on Friday, September 27th. 
The t-shirt designs for the club have been confirmed. The club has decided on black t-shirts with yellow text on the back that will say "Make America Cook Again" with the Foods Club logo on the front. There are plans to possibly change the shirt design later in the year.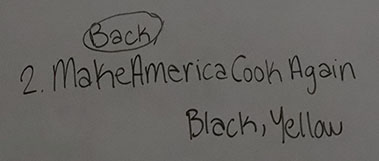 Foods Club worked the snack bar for JV and varsity football on Friday, September 27th from 4 pm to 9 pm on the home side. About $1800 of profit was made that night. The students worked at the snack bar from 4 pm to 10 pm.