Varsity boys tennis breaks a 55-year-old streak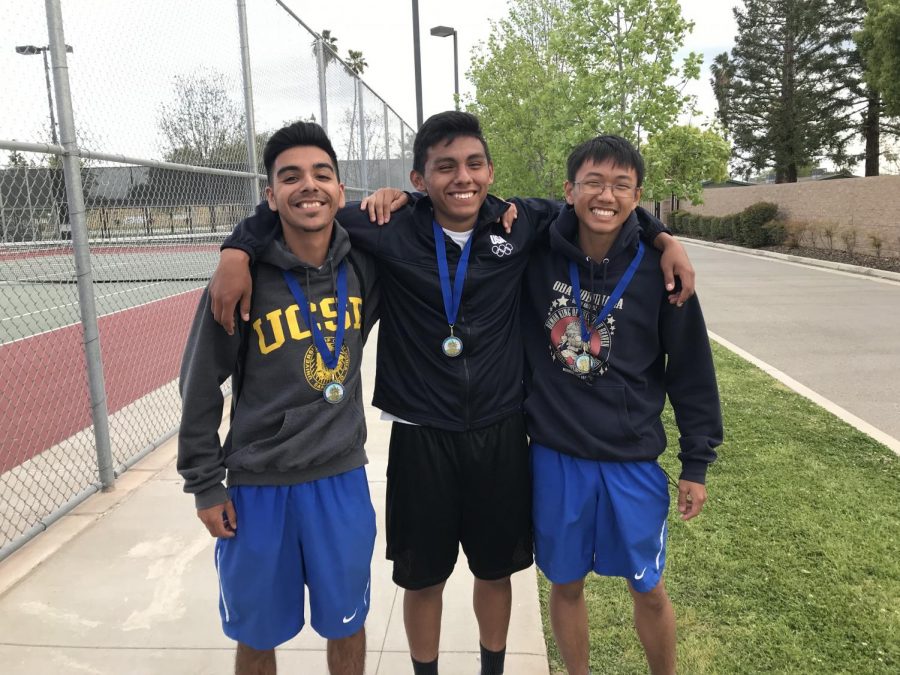 Brian Rivera, Rudolpho Magana and Tyler Nyguen became South Sequoia League champions at the SSL individual championships at Wasco. Rivera and Nyguen won doubles. Magana won singles by beating Wasco's top two players in back-to-back matches. Magana avenged his only two losses in league at their hands earlier in the season.
This was the first time in the 55-year history of the South Sequoia League that Taft won both the boys singles and boys doubles.
Taft had not won SSL singles since Eric Michelson won it in 1980. 
Each of the seven schools in the league competed in the tournament, with a 14-team draw in both singles and doubles. The top six in each draw advance to the area tournament at Wasco on April 26.
In singles play, Rudolpho Magana won the league championship. He had to play in two separate matches with Wasco players, who had previously defeated him in league play. He beat Rios of Wasco in the semifinal 7-5, 7-6. In the final, he drew the #1 seed, Chavez of Wasco. Magana won in straight sets 7-5, 6-4, and took home the Gold Medal.
In doubles play, Brian Rivera and Tyler Nyguen were the #1 seeded team of the tournament.  They breezed through the draw, and won the Gold Medal. They played six sets, and lost only 4 games overall in the tournament. Rivera was 10-0 for the season in doubles, and Nyguen is 15-0 in doubles for the season. Bryson Ginn and Antonio Guzman finished 5th in the tournament, and also qualified for the area tournament.
Taft is in Division 3 in the playoffs, and the draw will be announced on April 17.