Tennis wins SSL for the second time in recent history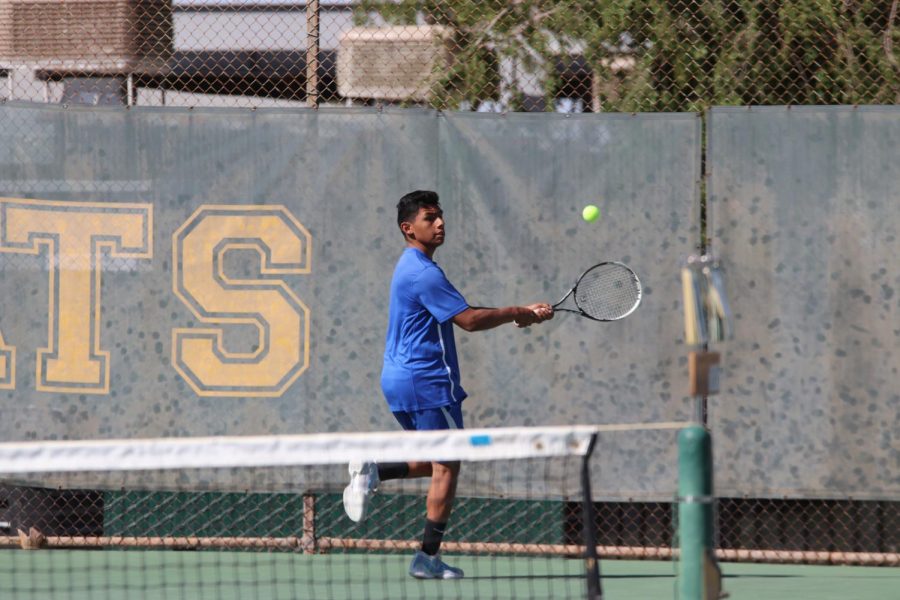 For only the second time in Taft history, the varsity boys tennis team has won the S.S.L. Championship. On Tuesday, they beat Wasco 6-3 to take a two-match lead (with only one match remaining in the S.S.L.)  The last time Taft won the SSL was 2016. Taft is currently 11-0, while Wasco drops to 9-2.
In singles, Taft won 3 matches, and Wasco won 3 matches; so, the score after singles was tied 3-3. Taft received strong singles play from Brian Rivera, Tyler Nguyen, and Antonio Guzman. Rodolfo Magana, and Luis Moncada each lost their match in a third set tie-breaker – Bryson Ginn also lost his singles match.
The Taft doubles teams each won their matches in straight sets.  Magana and Nguyen won 6-1, 6-3 at #1 doubles. Rivera and Ginn won 6-4,6-3 at #2 doubles. German Mejia and Marvin Gama won 6-2, 6-3 at #3 doubles.
Taft finished its league season at Arvin on Thursday. The S.S.L. Individual Championships are at Wasco next Tuesday and Wednesday.