Taft High wins the South Sequoia League
The varsity tennis team started their SSL Championship at Wasco on Sept. 9 and it goes through Sept. 10.
On Sept. 9, Cielo Woggn and Diana Huizar got placed number 1 in doubles. Valerie Munoz was placed number 3 for singles, while Jessica DeLaCruz was placed number 5. Cielo Woggn and Diana Huizar won both matches. Valerie Munoz also won both matches, but Jessica DeLaCruz only won the first match she had.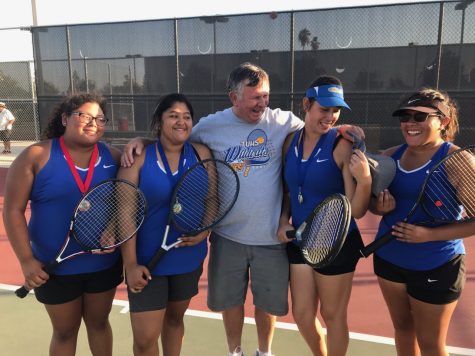 Only the top 4 went to the championship Sept. 10. These four were Cielo Woggn, Valerie Munoz, Diana Huizar, and Jessica DeLaCruz. Cielo, Diana, and Valerie are playing for first through fourth place, while Jessica is playing for fifth through eighth place. Valerie Munoz finished second in singles. Cielo Woggn and Diana Huizar took first place in doubles. Jessica DeLaCruz, on the other hand, finished fifth in singles.
The top six singles and doubles players from Kern County's four leagues move on to the area finals.
Taft went 12-0 to win the Sequoia League for only the second time in the league's 54-year history.
Four Taft players move on to area individual playoffs at Garces in two weeks.