Varsity Tennis Sweeps McFarland in Doubleheader
The Taft High's varsity boys tennis team shut out the McFarland Cougars twice, 9-0 and 5-0, Monday in a doubleheader to make up a rained-out match.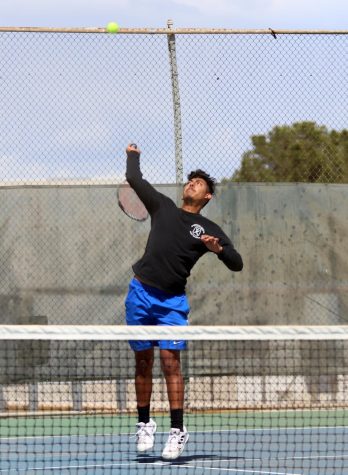 Taft secured the victory in the second match and then coaches terminated the final games because of a severe dust storm.
"McFarland was much better this year than in the past," Taft coach Jim Carnal praised. "They have a new coach, Jaime Bravo, and Marc Johns, one of the top players in Bakersfield, has been working with them. Usually they would go winless just about every year but they came in with wins over Shafter, Robert F. Kennedy and Cesar Chavez."
Taft No. 1 Enrique Reyes beat Ignacio Medrano twice by a combined total of 24-3. Sawyer Maier beat Christopher Perez, 6-1, 6-0, in the first match and Rodolfo Magana beat Perez, 6-2, 6-0 in the second. Magana beat Carlos Leon, 6-2, 6-0, in the first match. Maier's match with Leon was suspended because of the swirling dust. Tyler Nguyen shut out Hugo Cazarez, 6-0, 6-0, in the first match. Jordan Miranda beat Cazarez 6-1, 6-1, in the second. Brian Rivera was the first one off the court with a 6-0, 6-0 shut out of Adrian Cota then Jose Ramirez beat Cota 6-1, 6-0. In the first match Ramirez beat Carlos Gonzalez, 6-2, 6-0, then Jose Osornio beat Gonzalez, 6-1, 6-2.
In the first match doubles, Reyes and Rivera beat Medrano and Perez, 8-1. Miranda and Osornio beat Cazarez and Leonardo Nunez, 8-1. And, Bryson Ginn and Antonio Guzman shut out Christian Reyes and Xavier Perez, 8-0. The wind kicked up before doubles could be completed in the second match.
Taft improved to 17-6 overall; 10-2 in the South Sequoia League.
McFarland dropped to 3-9 in the SSL.
Taft will host the South Sequoia League individual championships Tuesday and Wednesday<cq: April 24-25>. The eight SSL teams will each bring their top six players. Each team will field two singles players and two doubles teams. The top six singles players and top six doubles teams will advance to the area (Kern County) individual tournament scheduled for May 11 and 12. Team playoffs begin May 3 with seedings announced April 30.