A Tie In Wins and Losses
Over Spring Break, the varsity baseball team played several games that unfortunately ended with losses. The boys played again the next week against the Shafter Generals and the Cesar Chavez Titans.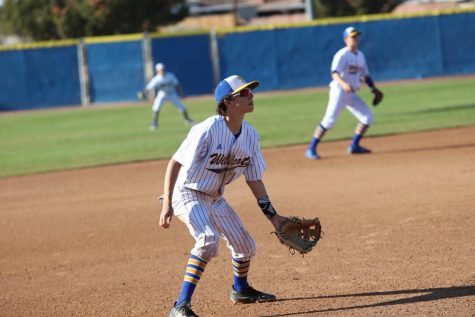 On 4/4 the Wildcats played Shafter's Generals and won with a score of 14-4. Sophomores Reese Hammons and Michael White, and a Junior, Christian Burleson, are the normal pitchers that all pitch a number of balls throughout the innings before rotating. White pitched a very good game, followed by Hammons and Burleson in the last couple of innings. Hammons pitched a total of 48 balls, while Burleson pitched 32, and White threw 91. Players, Reese Hammons, Gerry Taylor, Kyler Miles, Jackson Van Roekel, Skyler Self, Corbin Yaws, and Michael White all maintained one, or several RBIs, which stands for runners batted in. To end, the boys played an excellent game against the Shafter Generals and began to prepare in practice to play the Chavez Titans.
On 4/5, the Wildcats played the Chavez Titans at home. They lost by a score of 12-6. Although Chavez's pitcher helped out our team by walking players Chad Berry, Jackson Van Roekel, and Christian Burleson, the boys still couldn't seem to pick up their game and beat their opponent. They plan to pick it up for the next game and hope to take home a win.