The Wildcats Are Moving Up
The girls started off strong. Forwards Bella Nuncio and Taylor Hale tried their best to get a goal every time they got the ball. The defenders on the opponent's side was strong and wouldn't let the girls through. Fresno made a goal on our goalie, Valerie Munoz, during the first half, but she blocked all the other goals after that. Fresno pushed hard, but the Wildcat girls got back up. Taylor Hale got a chance to get a free shot but missed. The crowd was going wild and yelling at the referees for not making the calls the crowd thought were right. The first half ended with 0-1 with Fresno in the lead.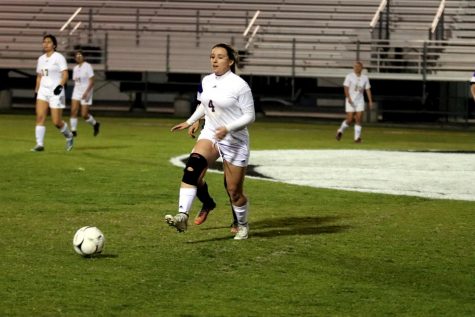 With only a minute or two in second half, Fresno scored on the girls after making a throw in. Parents on the bleachers yelled at the players to be aggressive or let someone else kick the ball. Other parents would say pass the ball. Bella Nuncio had many chances to shoot a goal but, every time she tried, three Fresno girls would get on her. Jonelle Rouelle would always be yelling at her teammates to get them on track. Fresno's keeper was tough and blocked every goal that came to her. The girls were under pressure when it came to making a goal.
Eventually, Taylor Hale finally was able to have a chance to be alone with the ball and was able to get a goal. Yadira Astorga-Leon fell and got hurt but the referee didn't call anything. The parents on the stands yelled at the referee that someone was going to get hurt. With five minutes left in the game, the lady 'Cats scored a goal, making it 2-2. Then the crowd went wild when Bella Nuncio scored a high free-kick that went into the goal. Final score of the night was 3-2 with the Wildcats in the lead and moving up in playoffs. The girls ended up dumping a jug of Powerade on their coach because of how happy they were and to celebrate. They will be playing on Friday, February 16 at Kingsburg.