Taft Varsity Wildcats Had an Undefeated Week
The varsity girls' soccer team completed another unbeaten week at Shafter, finishing off the Generals 2-1 in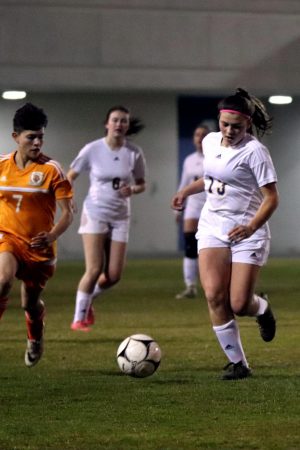 another hotly contested overtime match. Shafter struck first to take a 1-0 lead into halftime and they had us on the ropes. We responded very well in the second half, overcoming 3 absent starters and only one official, to knot the game at 1 following a beautiful goal by Bella Nuncio, who was also feeling "under the weather." The game went into overtime and momentum was starting to turn in our favor, due to our superior conditioning and skill. Zayn Herrera finished off a fantastic assist from Elizabeth Huizar for the go-ahead goal in the first overtime period. We were able to fend off a few late attacks from Shafter in the final overtime period to earn the victory.
The win put us still one game behind BCHS at 6-1-2 in SSL play. In the absence of our starters, we had many role players step up and play excellent games. Saskia Haag and Freshman Chelsie Quintero played solid defense and are rapidly improving each and every game. Freshman Evelyn Camacho valiantly filled in at center-mid for Millie Reynoso, doing an excellent job controlling the center of the field all night. Elizabeth Huizar saw a few precious minutes of playing time, but she made them count, adding the game winning assist. Numerous girls played out of position to make this a true team victory, and I am very proud of their sacrifice for the team. In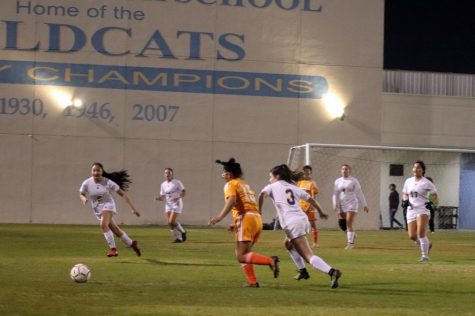 probably the greatest show of sacrifice, Junior Skyler Hale gave up a non-refundable plane ticket to attend the game so we would have enough players to play. She was originally scheduled to accompany her sister Taylor to Texas for a college visit. These girls continue to learn fantastic life lessons each week and I am proud of their growth as people and as soccer players. Come out for Senior Night tonight (1/30) at 6 p.m. versus Cesar Chavez.