Winning Games with Positivity and Teamwork
Tuesday, Dec. 12, the girls soccer teams went against Shafter with all of their might. The first goal of the JV game was achieved by Isabella Toro with help from her teammates Aubrey Self and Mackenzie Lynd for getting it up the field and passing it to her. Goalie Clara Meza blocked kick after kick as the crowd cheered her on. Teammate Perla Botello said during an interview, "This game is going well, we made our first goal within 19 minutes, so that says something about our girls." The first half of the game ended 1-0 in favor of the Wildcats. During halftime, the coaches and girls encouraged the starters to keep their spirits high during the game. As Maggie Rodriguez stated, "So far this season is going pretty well. We definitely have stuff to work on, but we've only lost one league game so far." During the second half, Julieth Covarrubias dribbled the ball up field and shot it, getting the second goal of the night and ending the game 2-0 in favor of the 'Cats.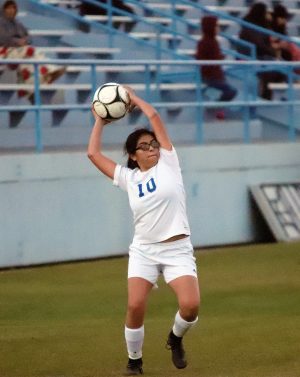 Varsity played a hard and intense game and by 30:11 the game was tied 1-1. Regan Barnachia blocked a ball headed for the Wildcat goal with her head and sent it back towards the Shafter side. Shaniah Reilly admitted, "We all get along pretty well on and off the field. We can joke around before the game and then get serious during the game; it's a great experience." Bella Nunio, star of this particular game, scored 3 goals in a row–which is known as a "Hat-Trick". Saskia Haag admitted during the game, "This is my first time playing soccer. Everyone makes me feel support[ed] and encourage[s] me to do my best. I think my team is what makes this game fun." After an argument between the two teams and a couple yellow cards, the varsity Wildcats won the game 4-1.