Accolades for Athletes
The Fall sports banquet awards were distributed on Nov. 15 at Taft High. Parents, coaches, and athletes enjoyed a banquet followed by ceremonies for each Fall sport.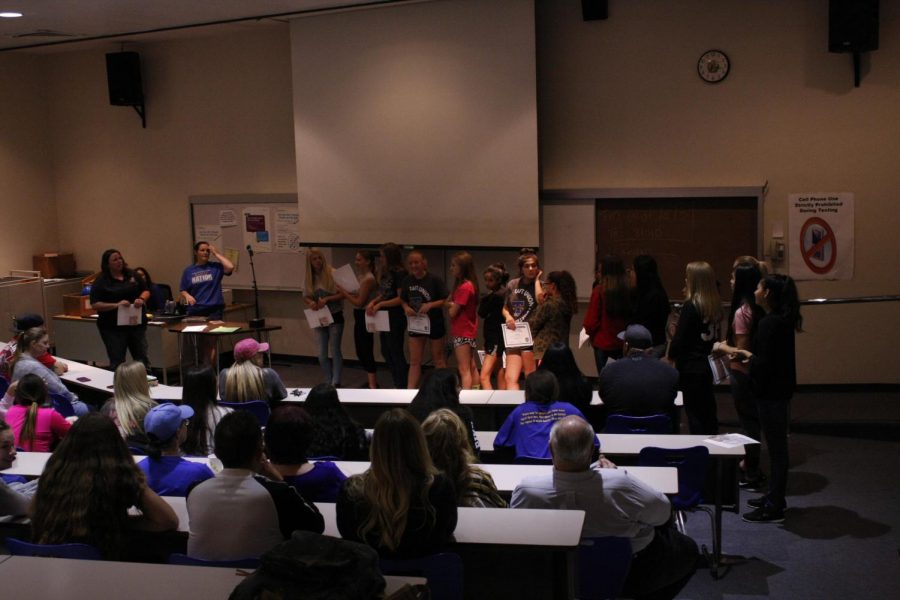 Varsity volleyball ended the season with an impressive record 28-6-1. The head coach, Adeana McDaniel-Furman, assistant coach Taylor Miller, and the team players shed tears because this was the last time that they would be together as a team. They became a little family throughout the season and learned to love the game of volleyball as a team. It was an emotional night for the team, but every season has to come to an end. This was a season the team never wanted to end. Senior, Hunter Everson, was awarded the coaches award because, "She always got practice started" and "got the girls going". She was also awarded 1st team all league as well as Sarah Lopez. Lopez was also awarded Wildcat of the year and MVP because she "worked hard and truly loves the game of volleyball". Another senior that was awarded 1st team all league was Brooklyn Yaws. She was better known as "Sunshine" and she was also given the Teammate award. The last senior that got an award was Alyssa Reeves, awarded honorable mention and most improved. Furman said, "She has improved so much since her freshman year". Two juniors were awarded this year. Chaydin Garcia was chosen for the Die-Hard award and Cherise Strong was awarded Most Improved as well. Morgan Pulido was the only sophomore on the varsity team this year and she was awarded the utility player of the year. Tears were shed and Furman ended the banquet with "I love you guys". The team had a great year and are looking forward to what the varsity volleyball team will look like next year.
The coach for junior varsity volleyball was more than happy to dedicate five awards to a few of her players. Two "Captains" awards were given out and received by Bree Johansen and Rylee Mizener. Another award was the "Utility Player" award given to Millie Reynoso. Maria Huerta was selected to receive the "Most Improved" award. The only freshman on the team was Brooke Ashmore and she was awarded the "Coach's" award.
The freshmen volleyball coach Suzanne White dedicated many awards to her players. Three "Captains" awards were awarded to Destiny Gilmore, Shelby Lee, and Judith Lopez. She was proud of all of the players because they all improved. The "Most Improved" award was awarded to Perla Botello. Many awards were given out, but a rare award that was given out this year was the "Wildcat" award. The "Wildcat" award was given out to Marilyn Rodriguez.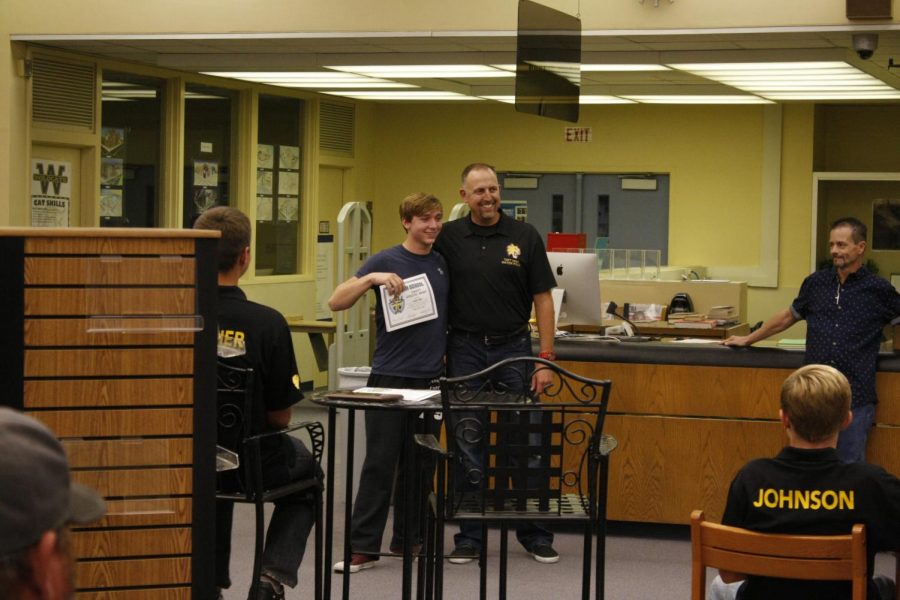 The Taft High water polo team started 4 years ago as a co-ed team and has grown into their own boys team and girls team. The girl's water polo team is coached by John Usrey, while the boy's team is coached by Nathan Usrey and Jeremy Elom. John Usrey's team consists of 8 girls who just barely make a full team. Each member is valued and plays a key part in their dynamic team. Taking home "Captain's" awards were Shania Reilly and Kerrigan Yancey. "Polo Thief" award was given to Courtney Tweedy, "Utility Player" was awarded to Jordan Blaska, "Most Improved" was given to Marissa Kelley, "Character Counts" was given to Macaela Reilly, and "Most Versatile Player" was given to Julie Heimiller and Malynn Stepp. As for the boys: "Most Improved" went to Zane Martin, "Most Versatile Player" went to Sergio Gomez, "Most Inspirational" was given to Kaden Hielscher, "Coach's" award went to Presley Golling, and the "Captain's" award went to both Ryan Hickernell and Kaleb Hillan. Coach Usrey also recognized Paul Pitts, Alex Toro, Jack Layton, Kade Bravo, Corbin Hillan, Brendan May, Seth Taylor, Dominic Krier, and Jake Johnson. Nathan would like to recognize his managers for all the work they've done. The team wouldn't function without them.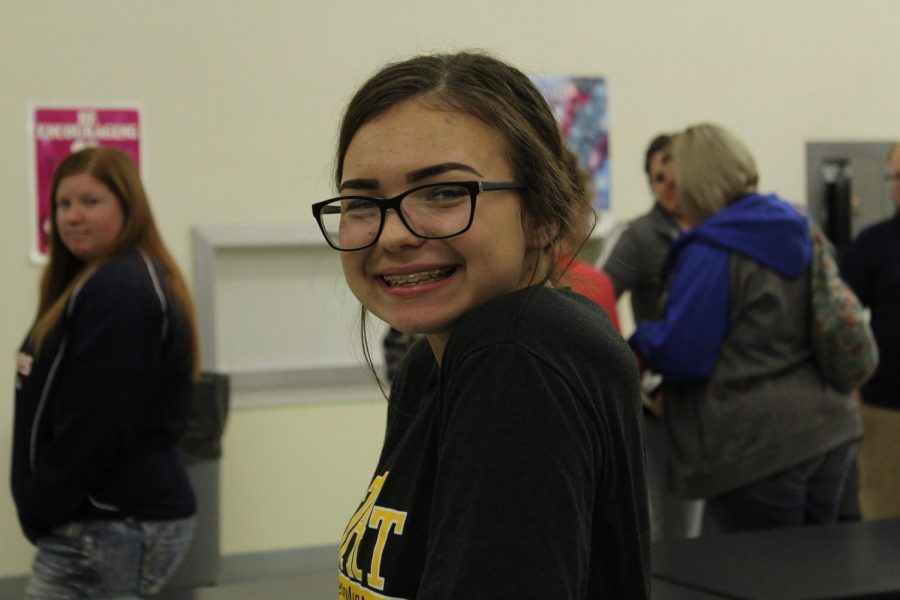 Taft Union High School's cheerleading teams ended their season with a bang as coaches Kelly Morris, Shawn Dowhy, and Rioa Schock gave their athletes their well-earned awards. For JV, captains Zayn Herrera and Jeb Burke received their own unique plaques as Dowhy, in tears, handed them over. "Most Inspirational" went to America Cordova, the "Most Improved" award went to Alyssa Ramirez, and the "Coach's" award went to sophomore Jeb Burke. Varsity coaches Morris and Schock gave Kilie Odle, Jordan Isbell, and Emily Dunham their "Captain's" awards stating something about each of them. Morris said, "You need different types of leaders on a team. There's the leader that puts the hammer down when necessary, the leader who explains things with patience and care, and then you have the leader who's willing to stay after practice to give a confused teammate a few pointers. I had all of that with these three girls and I'm grateful for that." Kendra Dennis, a first-time cheerleader who made it on varsity this year, received the "Most Improved" award with pride in her eyes and a smile on her face. The "Most Dedicated" award went to Hailey Steele who Morris stated was at every practice on time and ready to work with a good attitude. While everyone admitted it can be difficult dealing with hormonal teenagers every day, they also stated they had an amazing season this year and the underclassmen can't wait to hold the pom-poms again next year.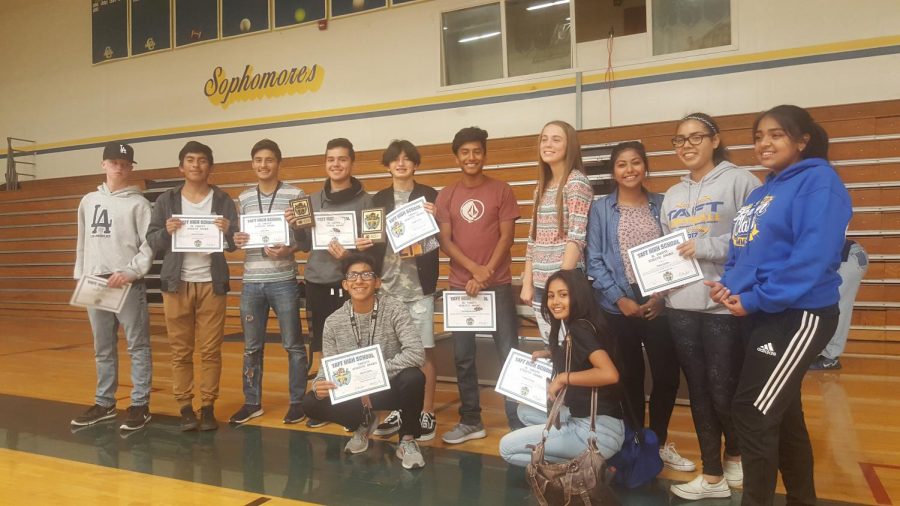 The cross country awards ceremony congratulated the members of the cross country team. Hannah Covington received the Female Athlete Award. The JV awards went to: Kylie Campbell, Ramiro Gonzalez, Ivan Espinoza-Solano, Yesica Guitron, Caleb Martin, Luis Moncada, Kimberly Rivera, and Rene Torres. The varsity award recipients were: Manny Alvia, Chase Cortez, Marvin Gama, Zughei Guzman, and Mildreth Morales. The JV plaque for "Most Improved" went to Pedro Saucedo, and Luis Moncada. The JV girl's "Newcomer" plaque went to Kimberly Rivera. The boy's "Newcomer" plaque went to Manny Avila. Varsity "Most Improved" went to Antonio Guzman. Varsity Boy's "Coach's" award plaque went to Adrian Luna. Varsity girl's "Coach's" award plaque was received by Bella Nuncio. Hannah Covington was awarded the "Comeback Runner of the Year" plaque. Last, but not least, Chase Cortez won the "Runner of the Year" plaque. Hickman included in the ceremony the idea that this may be Heiter's last season. Hickman said, "This could possibly be his (Heiter's) last cross country run."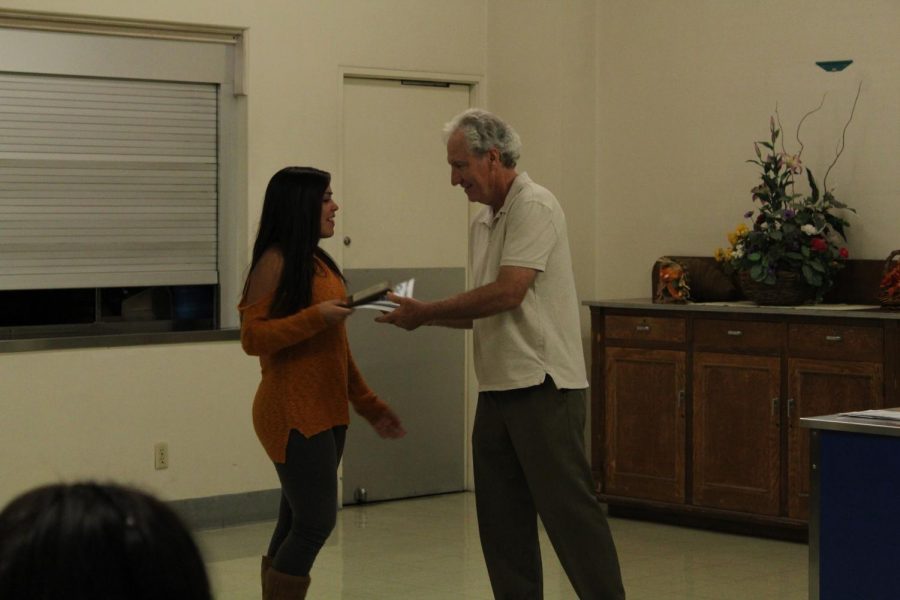 Four of the girls on the JV tennis team won plaques. The "Most Valuable Player" went to Gabriela Aguilar. The "Captain's" award went to Ivonne Gutierrez. Valerie Munoz got "Best Singles (net) Player". Finally, "Best Doubles Player" went to Jessica De La Cruz. For the varsity team all the players got plaques. "Best Three Doubles in SSL Undefeated in League" went to Alondra Cisneros. "Most Improved" and "Most Wins" with a 36-12 went to Dariana Calderon. Leighton May got "MVP" and "First SSL Singles Champion". Elizabeth Huizar got "Fourth in SSL Doubles" and her sister, Diana Huizar, got "Third in SSL Doubles". "Fourth in SSL Double" went to Brisa Guizar. "Best Record" with a 20-3 and "Undefeated in League" went to Rosa Silva. Cielo Woggn got "Best Doubles Record" with a score of 12-2 and her sister, Yuvia Woggn, got "Most Inspirational" and "Third in SSL Doubles".
It was a great turnout at the banquet for the girls golf team. Five of the team's varsity players of the girls golf received plaques during the ceremony. Sierra "Big Bird" Pilgrim received "Team Captain" award with a 90.2 stroke average. Willow "Toss Out" Pilgrim received "Best Qualifier" with a 135.8 stroke average. Macayla "Goose" Wells received "Outstanding Freshcat'" award, qualifying all league with a 107.2 stroke average. Carson "France" Burell won "Best Catitude" with a 126 stroke average. Daisy "Mom" Rosales also won "Team Caption" with a 120.2 stroke average. All in all, it has been a great season with all the newcomers and good sportsmanship.
Football was held in the auditorium as all parents and recent players from the junior varsity and varsity team made their way into the auditorium. Laughter and voices rang loud as nearly everyone in the auditorium shared their memories from the recent football season. Junior Varsity Head Coach Brad Van Roekel began calling players one by one onto the stage so that they could receive their participation awards among other various awards. Coletin Hamblin received MVP, German Mejia was "Most Improved", and Logan Rolin and Ulises Sanchez were given the "Captain Award". The warm welcomings onto the stage from Van Roekel were comical, as he shared a special story for each individual player before they finally received their participation awards. With loud applause from the crowd, the junior varsity players then returned to their seats.
Varsity Head Coach George Falgout then began the same process of sharing great individual stories for each varsity player. The managers, Lindsay Turner, Jasmine Chavira, and Sierra Kozloski, were also welcomed to the stage for a big thank you from the Taft Union High School Wildcat program. After the managers received their flowers and awards, Head Coach Falgout then handed out each special award to his players. "Big Mac Hit Man Champion" was given to Jordan Miranda, "Defensive Player of the Year" went to Zack Tualia, the "Captain Award" went to Jackson Van Roekel and Thomas Stark.  Fano Maui also received the "Captain Award" as well as Offensive Player of the Year.  Maino Maino was given the "Captain Award" and "Pancake Champion". The "Bleed Blue and Live a Gold Standard" awards were given to Jacob Gonzales and Blake Johnson. After all the awards had been handed out, and a big round of applause for all the players, coaches, and managers participating in the 2017 football season was given by the crowd. It is safe to say that the Fall Sports Banquet was a great success; it was a bittersweet night for many.