TUHS Jazz Band performs for Cinco de Mayo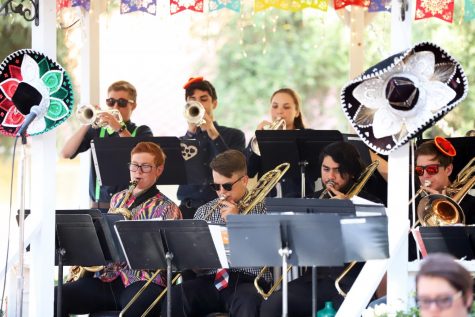 To celebrate Cinco de Mayo, TUHS Jazz Band put on a show for community members, family, and friends. Alongside the help with others, Amanda Posey has been hosting this event since 2011. Having a great turn out every year, Posey had to continuously change venues to hold more people attending.
This event came about because the Jazz Band has so many songs they have perfected and could easily play for an entire dinner. Amanda Posey said, "The band parents are great at planning and hosting events, which is why our events are so well attended." This year, there were 140 people that attended, very close to the max number of people the Fort can hold. Posey also said, "I always want to celebrate the accomplishments of our students. It would be wonderful if every student in the Jazz Band had a family member at the event." Senior, Nicholas Castillo said, "Everyone seemed to be enjoying the music and delicious food, there was a bird dancing to the music, and the wind died down letting everyone enjoy the rest of the night. My favorite part was our surprise ending. We pretended to be finished with our set, only to surprise the crowd by playing 'Second Line,' while walking around the area." Senior vocalist Dawson Lopez said, "We received many compliments on the music we performed and the food being served. My favorite parts were definitely when I got to sing, play my solos, and just being able to perform for people's entertainment." Vocalist and saxophone player, Raygan Wescott said, "It was fun and a great experience. My favorite parts were singing and getting to see the audiences reactions." Seeing the audience smile made the annual Cinco de Mayo dinner a great hit for all those that attended and the performers.