Softball has a Tough Start
On March 6th, the varsity softball girls played Ridgeview in their first pre-season game. The game started off intense as Ridgeview only scored a single run on the Wildcats in the first inning. The second inning went scoreless from both teams. The Wildcats would get solid base hits, but no one else from the team could bring them in. R.B.I.'s were not plentiful in this game. In the third inning, however, Ridgeview gained a solid lead on the Wildcats as they scored 4 runs in one inning. Taft's defense made a few minor errors, which allowed this big lead. By the end of the third inning, the score was 5-0 in favor of Ridgeview. In the fourth inning, Taft took to the offensive side when Reagan Hamilton scored the first run for the 'Cats. The offensive flow of events from Taft continued. However, Taft could not bring in two more runners and left them on base. In the same inning, Taft's strong defense shone through and did not allow Ridgeview to score any more runs. The fifth and the sixth innings were both scoreless. By the end of the 7th inning, Taft had lost to Ridgeview 8-2.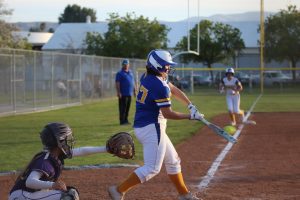 Two days later, the Wildcat girls had another pre-season game against a very tough and challenging team. The Wildcats played Centennial–on Centennial's home field. The game started out very promising as both teams could not score. However, this did not last very long as Centennial's offensive skill came into play. By the end of the game, the 'Cats lost 14-0. Although Taft took the loss, improvement and potential was shown in various moments of each game. The season looks bright for the Wildcat girls!
The Mira Monte tournament this weekend at Mesa Marin has been canceled due to weather.